January 26, 2018

---
A sweet honour for Tipperary native Ryan
- Halifax Chronicle
John DeMont is a columnist for The Chronicle Herald.
In search of a jar the other night, Denis Ryan — the Irish-born musician turned stockbroker, entrepreneur and investor in his adopted home of Halifax — wandered over to Danny Murphy's Pub in Saint Augustine Beach, Fla.
It was a fitting destination, since the saloon is owned by a man from Tipperary, the same Irish county where Ryan was born.
Yet he received no special treatment there. Every second person in Tipperary is a Ryan, you see.
What is more, he resisted the urge to tell the the barman the kind of news that is likely to earn a free round in a place like Murphy's in Saint Augustine, or, for that matter, The Old Triangle in Halifax.
On Feb. 23, at a posh dinner at Louis Fitzgerald Hotel, on Naas Road in Dublin, Ryan will be inducted into the Tipperary Hall of Fame — an honour that might be greeted with a shrug back in Halifax, but sure means something to the fellas at Danny Murphy's, and to the man himself.
"It's a long way to Tipperary," he told me over the phone from Florida this week, sounding just like a soldier on the march, singing that famous First World War song. "We've won some accolades over the years. But when your community and county recognizes you, well I think that is the sweetest thing for me."
According to the announcement, he's being inducted into the Hall for being a member of the Ryan's Fancy folk group, as well as being a "lifelong International Ambassador for and promoter of Irish Music and Culture."
In the Hall of Fame he joins big-business types, competitors on the hurling and football fields, a famous publican from Dublin and the former Bishop of Killaloe.
Quite a thing for a lad who grew up in a farming village of 500 — his hometown of Newport, my research tells me, has swelled to 1,800 nowadays — where Ryans go back to the 9th century. And where he can remember going to midnight mass in a horse and carriage, and the arrival of electricity as well as paved roads.
It can't have been easy growing up in mid-20th century rural Ireland.
But his voice softens when I ask Ryan — in the interests of full disclosure a friend who sang his signature Dark Island at my father's funeral — what Newport was like.
He talks about his accordionplaying dad, and the farmers helping each other during harvest time, a ritual that would invariably lead to parties and singsongs and the drinking of whiskey or, perhaps, "poitin," the moonshine hidden in the mountains and bogs around Newport.
Mostly he talked about the music which, in that part of the world, "is like language" and how, after moving to Toronto in 1969 and onto Newfoundland a little later, he could detect the same rhythms and words in the outports and pubs.
In Dublin they will hear some version of what happened next: how with Fergus O'Byrne and Dermot O'Reilly he formed Ryan's Fancy, which proceeded to cut 13 albums and earn international fame through a syndicated television series with the celebrated Irish musician, poet and storyteller Tommy Makem.
"We were lucky," Ryan says, in a voice that makes me think that the 74-year-old has lowered his head and is scuffing his sneaker like a kid. "We arrived at the right time."
The folks from Tipperary will surely hear how Ryan sang for the first Canadian Prime Minister named Trudeau, as well as Ronald Reagan, and shared the stage with Canada's second-most famous Irish crooner, Brian Mulroney.
They may even hear how, when asked to perform Let Me Fish Off Cape St. Mary's for the Queen, he got caught up in a diplomatic squabble between prime minister Stephen Harper and Newfoundland premier Danny Williams. (The Harper government only stopped pressuring him to sing something other than the unofficial anthem of Newfoundland when Ryan threatened to pull out of the occasion altogether.) I don't know if the Dublin dinner will include the kind of crowd that wants to hear about Ryan's success investing in companies like Salter Street Films, NovaScotian Crystal and, more recently, Immunovaccine Inc.
Instead they may be more interested in his blunt, profane diatribe about profligate spending in the world of Irish high finance, which became a YouTube sensation. They may want to hear a bit more about his involvement in Kneat Solutions, which creates software for global life-sciences and health-care companies and is headquartered just 10 kilometres from Newport, where Ryan's brother now runs the old family farm.
"This," he says of the Hall of Fame induction that he says he shares with the other members of Ryan's Fancy, "is my Oscar."
A long, long way to Tipperary, indeed.

January 26, 2018

---
Fergus O'Byrne Honoured For Contributions To Local Music Community
- VOCM NEWS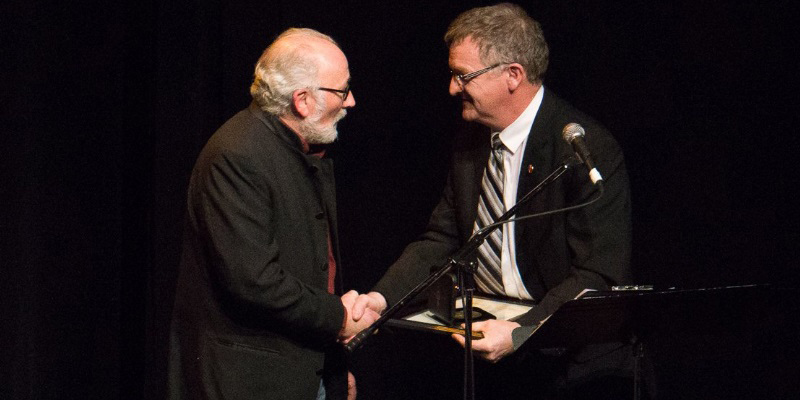 (Photo courtesy Larry Penney)
A founding member of Ryan's Fancy has been recognized for his continued work in the music community.
Fergus O'Byrne was presented with a Senate Sesquicentennial Medal by Senator Fabian Manning following this weekend's Young Folk at the Hall event. O'Byrne founded the event over 17 years ago to foster young musicians in the province.
The medal is an initiative of the senate to honour unsung heroes across the country, and is part of Canada 150 celebrations.
O'Byrne, a native of Ireland, moved to Newfoundland in 1971.

June 1, 2017

---
What A Time! Volume 2 - available now!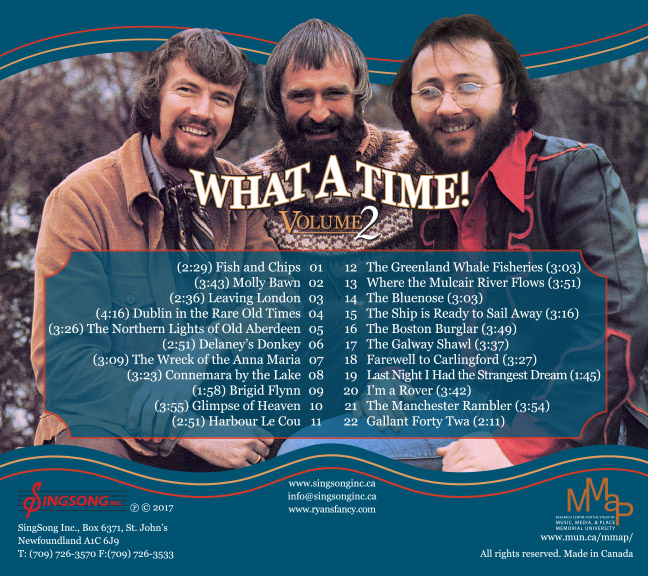 Ryan's Fancy have a brand new double CD collection available!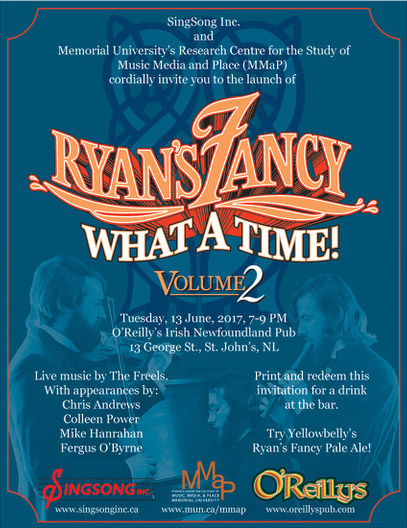 January 22, 2013

---
MAKE THE CIRCLE WIDE
The McGrath Family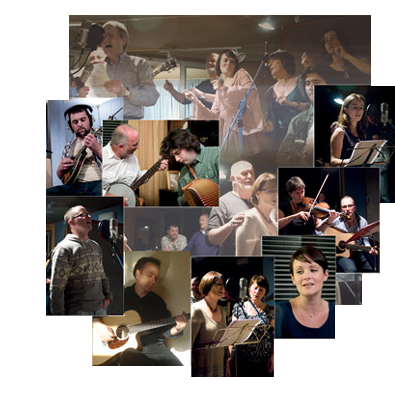 Back in October 2011, Fergus O'Byrne, and his son Fergus, travelled to Ireland to record a family album with Irish family members. The experience was one that everyone involved will remember for the rest of their lives, and the resulting album is a wonderful document of our music, family ties and culture. The album has been released in North America and around the world – we're excited for you to hear it!
The following is the press release that went out with the launch of the album.
The title is inspired from a line from "The Man from God Knows Where", a poem by Florence Mary Wilson about Corkman, Thomas Russell, a United Irishman, who went to the North of Ireland to organize Presbyterians for the 1798 Rebellion viz "We're a civil sort in our wee place so we made the circle wide". The concept capture a family desire to bond growing generations of evermore far flung descendants through sharing and recording their music and singing.
The family circle encompasses the direct descendents of Michael (d. 1953) and Ellen McGrath (d. 1982) and their spouses and partners, living at times as far afield as Australia, New Zealand, USA, Canada, Zimbabwe and England. Two very successful craic-filled family get togethers were held in recent years in Dublin, Ireland. Such was the enjoyment of music and songs of family members that it sparked in Brendan McGrath the idea of having them recorded on CD, harking back to a family tradition of house hoolies enlivened by party pieces.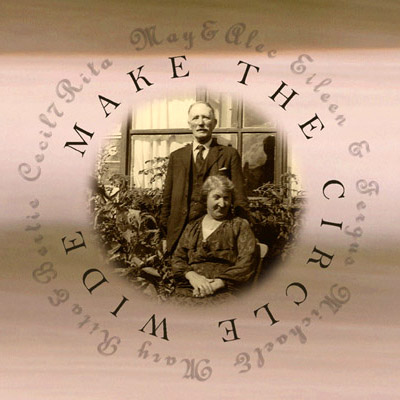 With the generous financial backing of Brendan and Éamonn McGrath, this venture was given further impetus by the visit of musician cousins Fergus O'Byrne and Fergus Brown-O'Byrne from Newfoundland. Fergus senior was a member of the well-known folk group, Ryan's Fancy, and a renowned folk singer in Canada for over 40 years. His son, Fergus, is an accomplished concertina and accordion player. Maurice McGrath, songwriter, musician and singer, added his original compositions to the family's repertoire.  
The tracks recorded are a mix of traditional Irish ballads and tunes, songs from Newfoundland, Australia and America, and also feature three new songs by Maurice and a new instrumental piece by Stephen Murphy. Recordings were made in Westland Studios in Dublin under the expert direction of sound engineers Alwyn Walker and John O'Kelly.  
This CD has been simultaneously released in Ireland and Newfoundland, with a portion of the proceeds going to St. Francis Hospice in Dublin and the Dr. H. Bliss Murphy Cancer Centre in St. John's.
---
CLICK HERE TO PREVIEW TUNES FROM THE NEW CD
AND ORDER ONLINE
---
For more information
Contact: fobyrne@nl.rogers.com (709) 576 4759
www.singsonginc.ca
www.makethecirclewide.com

May 23, 2011

---
Rambles.NET - Ryan's Fancy music review by Tom Knapp
Ryan's Fancy,
What a Time! A Forty Year Celebration
(Singsong, 2011)
The members of Ryan's Fancy carried the music of their homeland, Ireland, to their new home, Canada, and made a rousing success by blending the two.
Now, nearly 30 years after the Irish-Canadian trio disbanded, their music is gaining new life through the band's first-ever CD release. What a Time! A Forty Year Celebration is a two-disc, 42-track collection that gives this gone-but-not-forgotten band its due.
The band -- Denis Ryan, Fergus O'Byrne and Dermot O'Reilly -- grew out of the Toronto music scene in 1971, when fragments of previous Irish-Canadian bands (Sullivan's Gypsies and Sons of Erin among them) shifted their base to St. John's, Newfoundland, and reformed as Ryan's Fancy. They performed for two decades, producing 12 LPs and headlining a national TV series, before calling it quits in 1983.
I'll leave it to the scholars to explain -- in great detail, if you look around -- just how influential these boys were on Newfoundland's strong musical tradition, to say nothing of the broader scope of Canadian music. Suffice it to say, these 42 tracks are the tip of a much larger iceberg that I would love to see released soon.
The songs here range from the common to the obscure, including (to name but a few) "Feller from Fortune," "Cape Breton Dream," "Sweet Forget Me Not," "The Star of Logy Bay," "West Country Lady," "Sea People," "Bold O'Donahue," "The Cliffs of Baccalieu," "Ban Chnoic Eireann O," "Coal Town Road," "Farewell to Nova Scotia," "Mist Covered Mountains of Home," "The Rocky Road to Dublin" and "The Parting Glass." There's a happy balance between the traditions of Ireland and the Atlantic coastal provinces of Canada (primarily Newfoundland and Nova Scotia).
Ryan's Fancy has an earnest, pleasant sound that is well polished, yet retains a rough, earthy feel. The lads take turns singing lead or work together in harmony, offering plenty of variety. And, although recorded a few decades back, these tracks sound clear and freshly minted. All in all, I'll number What a Time! among my favorite releases (so far) of 2011!

March 24, 2011

---
ALBUM REVIEW FROM THE DOWNHOME and INDEPENDENT.CA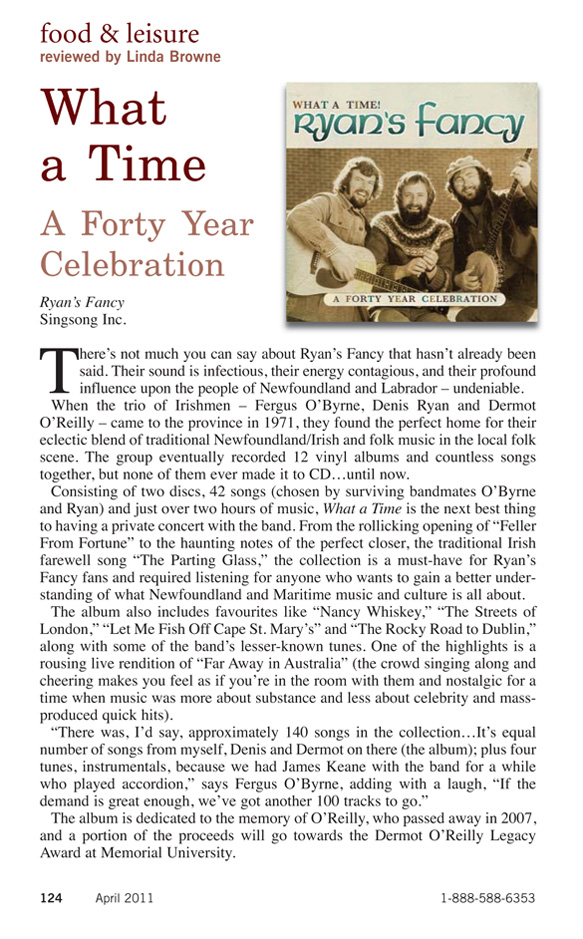 ---
And the newly relaunched INDEPENDENT.ca did a review of "What A Time!" as well.
Click here to read the review

March 19, 2011

---
ALBUM REVIEW FROM STEPHEN COOKE AND THE CHRONICLE HERALD
"Calling What a Time!: A Forty Year Celebration 'long-awaited' is an understatement. It's been over a quarter century since Ryan's Fancy stopped recording and touring and these songs have been sorely missed ever since. There's never been another vocal blend like Fergus O'Byrne, Dermot O'Reilly and Denis Ryan, whose music spanned the Irish and Atlantic Canadian tradition with incredible heart and soul. They could sing and play with the best of them, but the beauty of these recordings lays in the rough edge of peat smoke and strong whiskey that rose up out of the grooves, as if there wasn't that great a distance between the pub and the recording studio. Ryan's Fancy could summon moments of beauty without making the music too pretty, and play the drinking songs rough and ready without letting the seams show. Many of these renditions are definitive, The Ryans and the Pittmans and Mist Covered Mountains of Home come to mind, and are more than ready to be rediscovered."

March 12, 2011

---
MARCH AND APRIL TOUR DATES
MARCH DATES - Fergus O'Byrne & Fergus Brown-O'Byrne
Mar. 16
Potluck Live Arts and Culture Centre, St. John's
http://www.artsandculturecentre.com/stjohns/events/2011/potlucklive.html
Mar. 17th 7:30 am - 9:30 am
O'Reilly's St. Patrick's Day Breakfast http://www.oreillyspub.com/
Mar. 17th
6:30 pm Evening show at Raymond's Restaurant
http://www.raymondsrestaurant.com/new.php
---
APRIL DATES - A Crowd Of Bold Sharemen
Fergus O'Byrne, Daniel Payne, Jim Payne & Gerry Strong
SHORE TO SHORE TOUR 2011
http://www.wrenmusic.co.uk ( go to news page )
2nd April
Exeter Northcott Theatre concert
7.30pm £12 (£6 concs) www.exeternorthcott.co.uk 01392 493493
6th April
Poole Lighthouse concert
8.00pm £10 (£8 concs) www.lighthousepoole.co.uk 0844 406 8666
7th April
London Cecil Sharp House concert
7.00pm £14 advance, £17 on the door www.efdss.org 0207 485 2206
8th April
Hartlepool Town Hall Theatre concert (with special guests The Young 'Uns)
8.00pm £10 (£9 concs) www.thesagegateshead.org 01429 890000
9th April
Hartlepool Maritime Experience workshops
11am – 1pm Songs of the Sea and the Shore workshop. All voices and abilities welcome. 2pm – 4pm Tunes from Newfoundland. All acoustic instruments – no reading required.  Workshops open to adults and young people from 14+. Tickets for each workshop  £8 (£6 concs) www.thesagegateshead.org 0191 443 4661
10th April
Birmingham Midlands Arts Centre music workshop
1 - 4pm Newfoundland music workshop. All acoustic instruments – no reading required. £12 (£10 for concert ticket holders) www.macarts.co.uk 0121 446 3232
10th April
Birmingham Midlands Arts Centre concert
7.30pm £12 (£10 concs) www.macarts.co.uk 0121 446 3232
12th April
Bristol Colston Hall song workshop
1 - 4pm Songs of the Sea and the Shore workshop. All voices and abilities welcome. £10 (£8 Music Leader South West members, £8 for concert ticket holders)
www.colstonhall.org 0117 922 3686
14th April 
St Mary's Church, Bideford, Devon concert
7.30pm £10 (£8 concs) from Bideford Tourist Information Centre, Burton Art Gallery, Kingsley Road, Bideford, North Devon, EX39 2QQ 01237 477676
16th April 
Bristol Colston Hall concert
8.00pm £12 (£10 concs) www.colstonhall.org 0117 922 3686
17th April 
South Petherton, Somerset, David Hall concert
8.00pm £12 (£10 concs) www.thedavidhall.org.uk 01460 240340

March 11, 2011

---
#1 SALES CHARTS
We're very excited to hear that "What A Time!" debuted at number one in Newfoundland sales charts. Thanks to all of you who bought a CD and helped make this happen.

March 10, 2011

---
CD REVIEW
We recently had a review of "What A Time!" in The Muse.
"Songs have always been an integral part of the lives of Newfoundlanders and Labradorians. It's not just the ocean, the forests, and the farms that have provided inspiration; the tunes that have become canonical were also written with a passion for a rocky land rife with hardships but with an easily discernible charm."
"No doubt, songs have always been important, but it wasn't until 1971, when three Irish emigrants—Fergus O'Byrne, Denis Ryan, and the late Dermot O'Rielly, to whom this album is dedicated—assembled in St. John's as Ryan's Fancy, that people from this province understood just how good those songs were..."

March 8, 2011

---
HERALD FEATURE
Here's a three page feature in The Newfoundland Herald that appeared this week - thanks to The Herald and Kevin Kelly for taking the time to talk with us.