Ryan's Fancy released many fine recordings during their career, covering a wide array of traditional Irish and Newfoundland music as well as modern folk standards and original compositions by the band members and their contemporaries.

CDs

All the original LP albums are no longer in print. There are three CDs available however:

---

- Order digital album (includes all album artwork) from SingSong Inc.

- Order CD from SingSong Inc.
- What A Time! double CD is available at Fred's Records and O'Brien's Music in St. John's, NL
- MP3s (including digital booklet of album artwork) available soon via SingSong Inc.






WHAT A TIME!
Volume 2
June 13, 2017
SingSong Inc.,

---

---

22 more classic tracks by Ryan's Fancy. This 2017 CD release captures so many magical moments with the band and will be a huge hit with new and old fans.

01 Fish and Chips
02 Molly Bawn
03 Leaving London
04 Dublin in the Rare Old Times
05 The Northern Lights of Old Aberdeen
06 Delaney's Donkey
07 The Wreck of the Anna Maria
08 Connemara by the Lake
09 Brigid Flynn
10 Glimpse of Heaven
11 Harbour Le Cou
12 The Greenlan Whale Fisheries
13 Where teh Mulcair River Flows
14 The Bluenose
15 The Ship is Ready to Sail Away
16 The Boston Burglar
17 The Galway Shawl
18 Farewell to Carlingford
19 Last Night I Had the Strangest Dream
20 I'm A Rover
21 The Manchester Rambler
22 Gallant Forty Twa


- Order CD from SingSong Inc.
- What A Time! double CD is available at Fred's Records and O'Brien's Music in St. John's, NL






WHAT A TIME!
A Forty Year Celebration
February 22, 2011
SingSong Inc., SS-01103

---

AVAILABLE NOW

---

40 years after Ryan's Fancy first took the stage we've compiled a 42 song, 2 disc collection of the group's greatest recordings taken from their 12 albums (all of which were released on LP only, so this is the first time these songs have been available on CD).

A portion of the proceeds from this release will go to the Dermot O'Rielly Legacy Award at Memorial University.

Disc One
01 Feller From Fortune
02 Peter Amberly
03 Cape Breton Dream
04 Johnny, I Hardly Knew Ye
05 I Followed Her Into the West
06 Sweet Forget Me Not
07 Life of the Country Boy
08 Tie Me Down
09 The Star of Logy Bay
10 Reels
11 The Cross of Spancil Hill
12 Mist Upon A Morning
13 Carrickfergus
14 Jackie Tar
15 Nancy Whiskey
16 The West's Awake
17 West Country Lady
18 Kerry Slides
19 Fare Thee Well Eniskillen
20 Sea People
21 The Ryans and the Pittmans

Disc Two
01 The Dark Island
02 Bold O'Donahue
03 The Streets of London
04 The Cliffs of Baccalieu
05 The Island
06 Bán Chnoic Éireann Ó
07 Reels
08 Newport Town
09 Banks of Sicily
10 Candlelight and Wine
11 Cape Breton Lullaby
12 Coal Town Road
13 A Children's Winter
14 Farewell to Nova Scotia
15 Mist Covered Mountains of Home
16 Polkas
17 The Curragh of Kildare
18 The Rocky Road to Dublin
19 Let Me Fish Off Cape St. Mary's
20 Far Away in Australia
21 The Parting Glass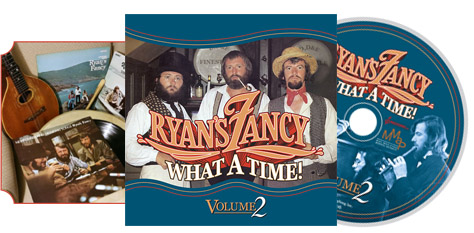 QUOTES ABOUT "WHAT A TIME!" CD COLLECTION
"It's definitely the album of the year! Have the tracks been remastered as they sound amazing, like they were recorded yesterday."
Paul Davis, 101.5, The Hawk radio, Port Hawkesbury, Nova Scotia www.themusicofireland.com
"What a beautiful treat, to receive this most amazing collection of your heartfelt music, which inspired a generation, am I ever enjoying the albums, beautifully done!"
Eric MacEwen , The Eric MacEwen Radio Show, CFCY 95.1 FM, PEI
"....a mighty fine CD that just arrived in the proverbial brown envelope...and the winner is....RYAN'S FANCY!"
Ron Moores, CJHR 98.7 FM to CKCU 93.1 FM, Ottawa Valley
" Ryan's Fancy were a delight to be around, fun to work with, and that comes through in their songs and singing on this commemorative album...it captures well the bright mood of that sixties in Ireland and further afield when ballad groups were springing up all over the place and every other person carried a guitar or a whistle and everybody sang. 'Bliss was it in that dawn to be alive, But to be young was very heaven! – Oh! times, …(Wordsworth)'"
Aidan O'Hara, Irish Broadcaster and columnist for Irish Music Magazine

---


BUY THIS ALBUM:
- MP3s at iTunes



SONGS FROM THE SHOWS
2001 Avondale Music, 02 0202

01 The Wild Goose
02 Come Along
03 Go To Sea No More
04 The Cliffs Of Baccalieu
05 The Boys Of The Island
06 The Ryans And The Pittmans
07 Farewell To Tarwathie
08 The Squid Jiggin Ground
09 The Hills Of Glenswilly
10 As Johnny Went Ploughin
11 The Green Shores Of Fogo
12 A Great Big Sea/The Copper Plate Reel
13 Come To The Bower
14 Fear a'Bheata


"...[Ryan's Fancy] can take a large part of the credit for the strength of the Atlantic Canadian music scene... It is their energy that we have striven to capture... We were lucky to have such an example."
Great Big Sea

---
LINER NOTES
I guess I first met Ryan's Fancy at the Legion in Pleasantville, St. John's, in the autumn of 1973. I was a newly arrived CFA television producer who at the tender age of twenty-nine had uprooted his wife and two young children from their comfortable suburban existence in beautiful downtown "Ontario" to travel to a new life and a new home in Newfoundland. At the time, the early 70s, Ryan's Fancy was enjoying a growing popularity in Atlantic Canada, particularly at the Strand Lounge in St. John's. The boys too, had uprooted themselves from their native Ireland and had chosen to settle in Newfoundland, pursuing both careers in music, and their individual dabblings in academia at Memorial University. One of the first challenges thrown at me upon arriving in St, John's, was to get a CBC National Network Series out of Newfoundland as quickly as I could. That somewhat by chance meeting at the Pleasantville Legion, was the beginning of a wonderful professional and personal relationship with Denis, Dermot, and Fergus, that has spanned nearly three decades, at least three television series, many Network Television Specials, and still exists to this day.
From 1974 to 1983, the Ryan's Fancy television shows, in various configurations, traveled extensively throughout Atlantic Canada. We journeyed from Charlotte County, New Brunswick, to the banks of the mighty Miramichi; from Dorchester Penitentiary to Ingonish, Cape Breton; from Orwell Corner, Prince Edward Island, to Change Islands, Newfoundland; and from Voisey's Bay, Labrador, to Branch on the Cape Shore. It was always our philosophy to take the show to the people and let the people be our special guests.
In 1999 and 2000, the local CBC Television station in St. John's rebroadcast some of the old Ryan's Fancy shows as part of an innovative series called "Rewind". The re-runs generated a great deal of interest and nostalgia. It was noted by many just how timeless the shows were and how well the music had survived the test of time. This collection of songs is a response to that renewed interest in the music of Ryan's Fancy. With the disbanding of Ryan's Fancy in 1983 I had placed most of the pre-recorded music tapes and field tapes from the shows in the care of the Folklore Archives at Memorial University in St. John's. The Archives have been the source of much of the material used on this recording.
I personally feel that Ryan's Fancy's arrival in Newfoundland was a pivotal event in the emergence of modern Newfoundland culture. As the trio played to packed houses night after night in the Strand Lounge in St. John's, young Newfoundlanders re-discovered traditional music. It was the music that their parents and grandparents had played and sung and danced to; music that for more than a generation had been deemed "un-cool" but was still very much alive at kitchen " parties " or parlour "times". Ryan's Fancy popularized the traditional music and dragged it kicking and screaming out of the closet for the enjoyment of all. The momentum generated by their arrival has not stopped: The Irish Descendants, The Punters, The Fables, Great Big Sea, and others, all credit Ryan's Fancy with lighting the spark.
Although the lads have not performed together as a group since 1983, music is still an important part of their lives. Denis Ryan, although being a successful investment manager living in Halifax, Nova Scotia, has released two CDs. Dermot O'Reilly owns and operates a recording studio, in Torbay, Newfoundland and performs on a regular basis. Fergus O'Byrne lives in St. John's, Newfoundland, tours extensively throughout North America and Europe, and continues to be an influential force on the East Coast music scene.
Great memories:
Jack Kellum
Executive Producer Performance Programs
CBC Television
Halifax, Nova Scotia
Our thanks to Allister MacGillivray, dear friend and musical collaborator; to accordionist "extraordinaire" James "Skip" Keane and Wally Cobb for their musical prowess; to Al Pittman and Wilfred Wareham for their research and friendship; to our featured guests without whom the shows would not have been what they were and to the people of the communities, villages and towns of Atlantic Canada for opening their doors and making us so welcome; to Patricia Fulton at MUN Folklore Archives for her time and patience; to Barbara Brown, CBC Toronto, for her advice and support; to Jack Kellum and the many people from CBC St. John's, on the road and in the studio, who made the shows a reality; and especially to our wives and families for their understanding, encouragement, and support, which we still enjoy today.
Musicians
Denis Ryan: vocals, tin whistle and fiddle
Dermot O'Reilly: vocals, guitar and mandolin
Fergus O'Byrne: vocals, banjo, guitar, mandolin and concertina
Allister MacGillivray: harmony vocals, guitar
James Keane: accordion
Wally Cobb: bass
CD Concept & Production: Dermot O'Reilly and Fergus O'Byrne with Lyle Drake and Rob Buck
Photography: Pam Corstine, Lyle Drake, Denise Grant, Jack Kellum.
Music produced for CBC Television by Jack Kellum
Engineers: John Shortall, Brian Johnson and Pat Martin
Recorded at CBC Television Studios, St. John's, NF And Audio Atlantic, Halifax, NS
CD materials assembled and pre mastered at Piperstock Productions, Torbay, NF
Mastered at MusicLane
All songs arranged by Ryan, O'Reilly, O'Byrne & MacGillivray. SOCAN
All songs traditional or Public Domain except:
The Wild Goose: Wade Hemsworth. SOCAN
The Cliffs Of Baccalieu: Jack Withers. Cop. Con.
The Squid Jiggin' Ground: Art Scammell. Cop. Con.